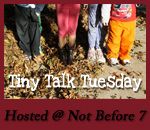 This is how I normally fix Gauge's hair for school in the mornings.
One morning we were running late and I didn't have time to properly fix his hair...so I just combed it to the side.

Here is the conversation that took place:
Gauge (with a mad look on his face): MOM, you're making my hair all crazy!
Me: Why honey?
Gauge: You're making me look like Papaw!
* My dad's hair is always combed to the side and perfect looking!!
I told my mom this funny story and she subsequently told my dad this story. Thus resulting in this picture being texted to me with the caption "Papaw wanted to look like Gauge."
I love you dad! Thanks for making my sweet boy giggle!