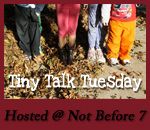 Setting the stage:
We were standing in the laundry/mud room getting ready to head out the door for school and work. We all had our coats and shoes on. The kids had their bookbags on and lunches in hand.
This is the conversation that took place:
Me: "Oh, Mommy forgot to pour her coffee. I'll be right back."
Gauge: "You're stressing me out!"
Me: "I'm sorry sweetie."

Gauge: "That's okay Mommy."